Activities of Daily Living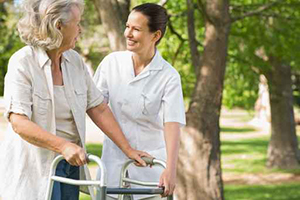 It is estimated that over 70% of people over the age of 65 require some form of help with activities of daily living. Even when you are close to a senior family member, it can be complicated to know their specific needs and in some cases, they might be reluctant to mention their more personal needs. Our compassionate caregivers understand and work with each family to provide a personalized care plan that includes the services that are really needed. Whether it is for normal aging challenges, recovery, or advanced preparedness our experienced caregivers are here to make everyday life easier and more manageable. An important factor in determining the needs of yourself or a loved one is the help they will need with activities of daily living.
There are two groups of daily living activities; activities of daily living and instrumental activities of daily living. The activities of daily living include the basic, routine tasks, which an individual needs to do each day. These activities include bathing, dressing, eating and using the toilet, which most people are able to perform on a daily basis without assistance. The instrumental activities of daily living are include the more complex tasks that require a degree of physical dexterity, sound judgment and organizational skills.
A senior's ability (or inability) to adequately perform both groups of activities is usually reflective of that person's ability to live safely and independently. Golden Age Caregivers, LLC will assess the senior's functional abilities and talk to the family and individual to determine that person's current senior care needs. Together they will establish a care plan with the services needed for the client.
Basic Activities of Daily Living
Activities of daily living fall into the following categories:
Bathing: includes grooming activities such as shaving, and brushing teeth and hair
Dressing: choosing appropriate garments and being able to dress and undress, having no trouble with buttons, zippers or other fasteners
Eating: being able to feed oneself
Transferring: being able to walk, or, if not ambulatory, being able to transfer oneself from bed to wheelchair and back
Continence: being able to control one's bowels and bladder, or manage one's incontinence independently
Toileting: being able to use the toilet
Instrumental Activities of Daily Living
The instrumental activities of daily living include the following:
Using the telephone:being able to dial numbers, look up numbers, etc.
Managing medications: taking the appropriate medications and correct dosages on time
Preparing meals: making appropriate food choices and preparing meals safely
Maintaining the home: doing or arranging for housekeeping and laundry
Managing finances: budgeting, paying mortgage/rent and bills on time, etc.
Shopping:being able to shop for groceries and other small necessities, and transport purchases from store to home
Using transportation:being able to drive or use public transportation for appointments, shopping, etc.
Whether the senior is able to perform all of the activities of daily living independently, needs help with just a few or needs help with most of them, Golden Age Caregivers, LLC will help tailor the care plan to meet these needs. Call us today at 561-613-3346 for a consultation and to get started on a personalized plan of care.